IEEE Fellow
Prof. Jean Mahseredjian, Polytechnique Montreal, Canada
Speech Title: Computation of Power System Transients with Renewable Energy Sources
Jean Mahseredjian graduated from Polytechnique Montréal with a Ph.D. in 1991. From 1987 to 2004 he worked at IREQ (Hydro-Québec) on research and development activities related to the simulation and analysis of electromagnetic transients. In December 2004 he joined the faculty of electrical engineering at Polytechnique Montréal. Jean Mahseredjian is the creator and lead developer of a software for the simulation of electromagnetic transients (EMTP®). His current research activities are related to the computation of power system transients for large-scale power systems.

IEEE Fellow
Prof. Fushuan Wen, Tallinn University of Technology, Estonia
Professor Fushuan Wen received the B.E. and M.E. degrees from Tianjin University, Tianjin, China, in 1985 and 1988, respectively, and the Ph.D. degree from Zhejiang University, Hangzhou, China, in 1991, all in electrical engineering. He joined the faculty of Zhejiang University in 1991, and has been a full professor and the director of the Institute of Power Economics and Information since 1997, and the director of Zhejiang University-Insigma Joint Research Center for Smart Grids since 2010. He is now a Professor in Energy Systems at Tallinn University of Technology, taking leaves from Zhejiang University.
Prof Wen is the editor-in-chief of Energy Conversion and Economics (IET, Wiley), the deputy editor-in-chief of Journal of Automation of Electric Power Systems, an editor of IEEE Transactions on Power Systems and IEEE Power Engineering Letters, a subject editor in power system economics of IET Generation, Transmission and Distribution, associate editor of Journal of Energy Engineering and Journal of Modern Power Systems and Clean Energy. He is also on the editorial boards of more than 10 journals.
Prof. Wen was elected to IEEE Fellow for contributions to fault diagnosis in power grids in November, 2020. (Click More)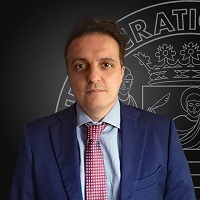 Prof. Pierluigi Siano, University of Salerno, Italy
Speech Title: Smart Energy Commnunities
Pierluigi Siano received the M.Sc. degree in electronic engineering and the Ph.D. degree in information and electrical engineering from the University of Salerno, Salerno, Italy, in 2001 and 2006, respectively.
He is a Professor and Scientific Director of the Smart Grids and Smart Cities Laboratory with the Department of Management & Innovation Systems, University of Salerno. His research activities are centered on demand response, on energy management, on the integration of distributed energy resources in smart grids, on electricity markets and on planning and management of power systems. In these research fields he has co-authored more than 550 articles including more than 300 international journal papers that received in Scopus more than 11000 citations with an H-index equal to 51. In 2019 and 2020 he received the award as Highly cited Researcher by ISI Web of Science Group. He has been the Chair of the IES TC on Smart Grids. He is Editor for the Power & Energy Society Section of IEEE Access, IEEE TRANSACTIONS ON POWER SYSTEMS, IEEE TRANSACTIONS ON INDUSTRIAL INFORMATICS, IEEE TRANSACTIONS ON INDUSTRIAL ELECTRONICS, IEEE Systems, Open Journal of the IEEE IES, IET Smart Grid and IET Renewable Power Generation.